Volunteer
We love volunteers at Ponderosa. They are what makes Ponderosa run smoothly, and they help out in every area imaginable.  Whether they are driving a tractor, helping clean buildings, wiping tables in the kitchen, sewing new curtains or working in the snack bar, without them, the camp would not be such an effective ministry.
Here is a testimony from some of our current volunteers.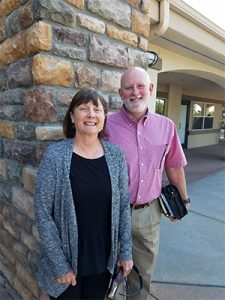 We first heard of Ponderosa through a South Carolina couple, Jim and Betty Cumbee, who had volunteered here previously. We were interested in doing some volunteer work out west after we completed an elk hunt. So in the fall of 2011, we gave Ponderosa a call! Volunteer Coordinator, Clint Walker, was excited to hear from us as they had just completed a busy summer and were praying for some relief volunteers. It was such a good experience that we have been coming back ever since.

Jose has consistently helped in the Maintenance Department and the remodeling of several buildings. I have helped in Housekeeping, Maintenance and The Snack Shack. We feel fortunate to be part of the "Ponderosa Family" and would encourage others to give of their time and talents to volunteer here fall, spring or summer! You will be blessed… its guaranteed! (Galatians 6:9-10 and 2 Cor 4:5)
Mission Partner
Ponderosa loves being the focus of mission trips. There are many big projects that need to be done, but the staff has their hands full in the day-to-day details.  That is where you come in. Coming with a group prepared to do big projects, like remodeling our buildings, replacing windows, or any number of other projects to make Ponderosa a better place.
Contact our Volunteer Coordinator at 719-481-2482 for more information.