CONSIDER BEING A MISSIONS PARTNER!
Want to bring a mission trip at Ponderosa? We have projects! Most groups adopt a project by providing funding for materials and bringing workers to complete it. What a tremendous blessing for Ponderosa's full-time staff.
WANT TO BE A V.I.P. (Volunteers Improving Ponderosa)?
WE NEED VIPs in EVERY SEASON... please call if you're interested in joining our team!
WE LOVE OUR VIPs! They help everywhere from the chopping veggies in the kitchen, doing laundry, cleaning buildings, facility maintenance, wiping tables, sewing curtains, greeting kids in the snack shack... and so much more! Our ministry would not be effective without them.
Dennis & Merry help in our Snack/Gift Shop:
"It is our privilege to Volunteer at Ponderosa, serving alongside the fun, gracious and committed Staff, Interns & Volunteers. All have an eternal mindset of building into the lives of our guests who grace Ponderosa with their presence, hoping when our guests leave, that God has worked through Ponderosa to have a life-long impact on their souls."
Bruce & Sandy have helped in our Dining Hall: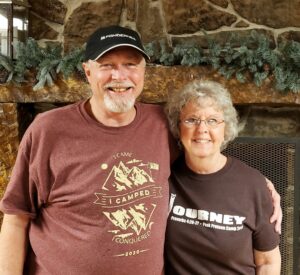 "They will still yield fruit in old age; they shall be full of sap and very green to declare that the Lord is upright; He is my rock, and there is no unrighteousness in Him." Psalm 92: 14-15

We found out about the volunteer program at Ponderosa from our teenaged grandchildren who also worked there. Since Bruce had a lot of food service experience, we were assigned to the dining hall. That was two years ago... we have worked with two amazing chefs and with some of the greatest hard-working, respectful, fun, young people imaginable! We are full-time RVers, and we're very thankful for the lovely site provided for us. If the Lord wills it, we will definitely be back next summer.