Recreation
Check out our wide range of activities for group! We strive to provide quality, professional activities that can add to your experience here at Ponderosa.
General Recreation Activities
Free to all of our registered guests
Indoor Gym: Multi-Use, Basketball, Volleyball
Game Room
Sand Volleyball Court
Outdoor Soccer Field
Outdoor Human Foosball Court
Softball Fields
Horseshoe Pits
Gaga Ball Pits
Tether Ball
Giant Jenga
Four Square Courts
9-Square in the Air
20-Hole Disc Golf Course
2 Hiking Trails & Prayer Path
Optional Recreation Activities
Additional fees apply and a separate reservation is required for the following activities:
Challenge Course Activities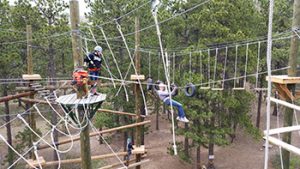 Looking for adventure-based activities for your group? We've got them! From a teambuilding experience on our Low Ropes Course to the personal challenge of the High Ropes Course, Climbing Tower, Leap of Faith, Vertical Playpen, and of course, the Zip Lines, we can provide the adventures. Our professional staff is trained to provide safe activities for all ages and backgrounds. Whether you are coming to Ponderosa for a retreat or are interested in a day trip to utilize the Challenge Course activities, we would love to set up an appointment for your group. We routinely host faith-based, church, ministry, and missions groups from children to adults, as well as elementary to college- aged school groups and school staffs, as well as professional adult groups just to name a few. Our courses are all certified to meet current ACCT challenge course standards, and safety is our primary focus. Click on each link below to find out more about each activity we offer as well as pricing information. Don't see a combination that works for your group? Call Andrew for questions or custom program options. All of our Challenge Course activities are available by reservation only and should be booked at least 30 days in advance.
Inflatable Recreation
Looking for a fun indoor activity to add to your retreat? Inflatables are a great way to boost your activity schedule and expending some of that youthful energy. Unaffected by the weather or daylight, our inflatables can be set up inside the gym at the time you request and are a very affordable option for your group. Click below for descriptions and pricing information for the inflatables.