Recreation
General Recreation Activities
If lodging at Ponderosa, there is no charge for these items. Otherwise, there is a $5 day-use fee.
Game Room
Sand Volleyball Court
Outdoor Soccer Field
Outdoor Human Foosball Court
Softball Fields
Horseshoe Pits
Gaga Ball Pits
Tether Ball
Giant Jenga
Four Square Courts
9-Square in the Air
20-Hole Disc Golf Course
2 Hiking Trails & Prayer Path
Putt-putt golf Course
Optional Recreation Activities
Additional fees apply and a separate reservation is required for the following activities. All optional rec activities are on a first come first served basis.
Please call 719-481-2482 ext 3 or email solo@visitponderosa.com at least 30 days in advance to book additional recreation activities.
Challenge Course Activities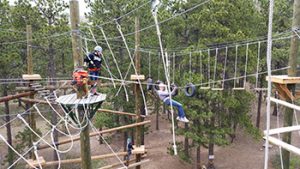 Our professional staff is trained to provide safe activities for all ages and backgrounds. Our courses are all certified to meet current ACCT challenge course standards, and safety is our primary focus. Click on each link below to find out more about each activity we offer as well as pricing information.
Inflatable Recreation
Our inflatables can be set up inside the gym at any time, and are a very affordable option for your group. Click below for descriptions and pricing information for each inflatable.