Recreation
Check out our wide range of activities for groups! We strive to provide quality, professional activities that can add to your experience here at Ponderosa.
General Recreation Activities
Free to all of our registered guests
Indoor Gym: Multi-Use, Basketball, Volleyball
Game Room
Sand Volleyball Court
Outdoor Soccer Field
Outdoor Human Foosball Court
Softball Fields
Horseshoe Pits
Gaga Ball Pits
Tether Ball
Giant Jenga
Four Square Courts
9-Square in the Air
20-Hole Disc Golf Course
2 Hiking Trails & Prayer Path
Putt-putt golf Course
Optional Recreation Activities
Additional fees apply and a separate reservation is required for the following activities. All optional rec activities are on a first come first served basis. Please call 719-481-2482 ext 113 or email solo@visitponderosa.com at least 30 days in advance to book additional recreation activities. 
Challenge Course Activities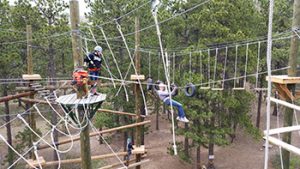 Our professional staff is trained to provide safe activities for all ages and backgrounds. Our courses are all certified to meet current ACCT challenge course standards, and safety is our primary focus. Click on each link below to find out more about each activity we offer as well as pricing information.
Inflatable Recreation
Looking for a fun indoor activity to add to your retreat? Inflatables are a great way to boost your activity schedule and expending some of that youthful energy. Unaffected by the weather or daylight, our inflatables can be set up inside the gym at the time you request and are a very affordable option for your group. Click below for descriptions and pricing information for the inflatables.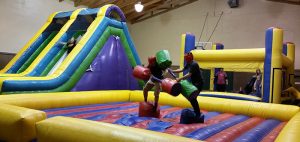 The bounce house is a great activity for younger kids to burn some energy. The fully enclosed walls keep the kids safe, and a staff person will be present at all times. Have the kids kick their shoes off and let them literally bounce off the walls!
Price for the Bounce House is $75 per hour.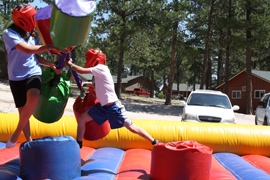 Climb onto the pedestals, put on the padded helmet, and prepare to test your skills in pugil stick combat. Knock your opponent off of their pedestal American Gladiator style and you will be declared the winner. The fully inflated arena will be a soft place to land if you are defeated. Two people at a time battle it out as spectators cheer them on. The pugil sticks are fully padded for safety. A staff member will be present to serve as a referee and to ensure safe operations.
Price for The Joust is $75 per hour
A fun activity for the younger crowd, the giant slide is so big that it fills up most of our gymnasium. At 20 feet high, the double sided slide produces fast speeds for sliding kids. The fully inflated design ensures a soft cushy landing area and stairway to climb to the top again. Since it is double sided, it provides a ton of sliding opportunity. A staff member will be present to ensure safety rules are followed.
Price for the Giant Slide is $100 per hour.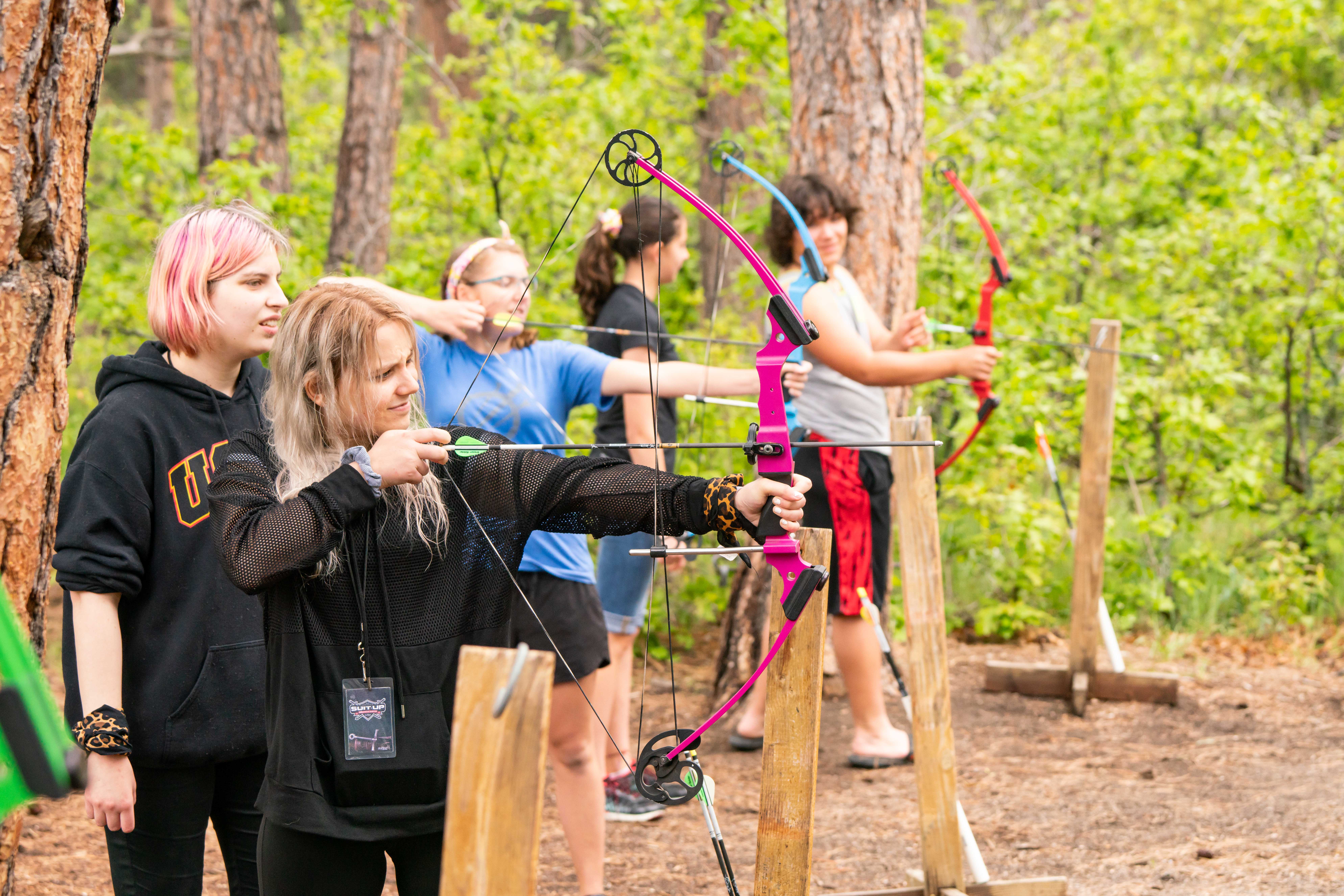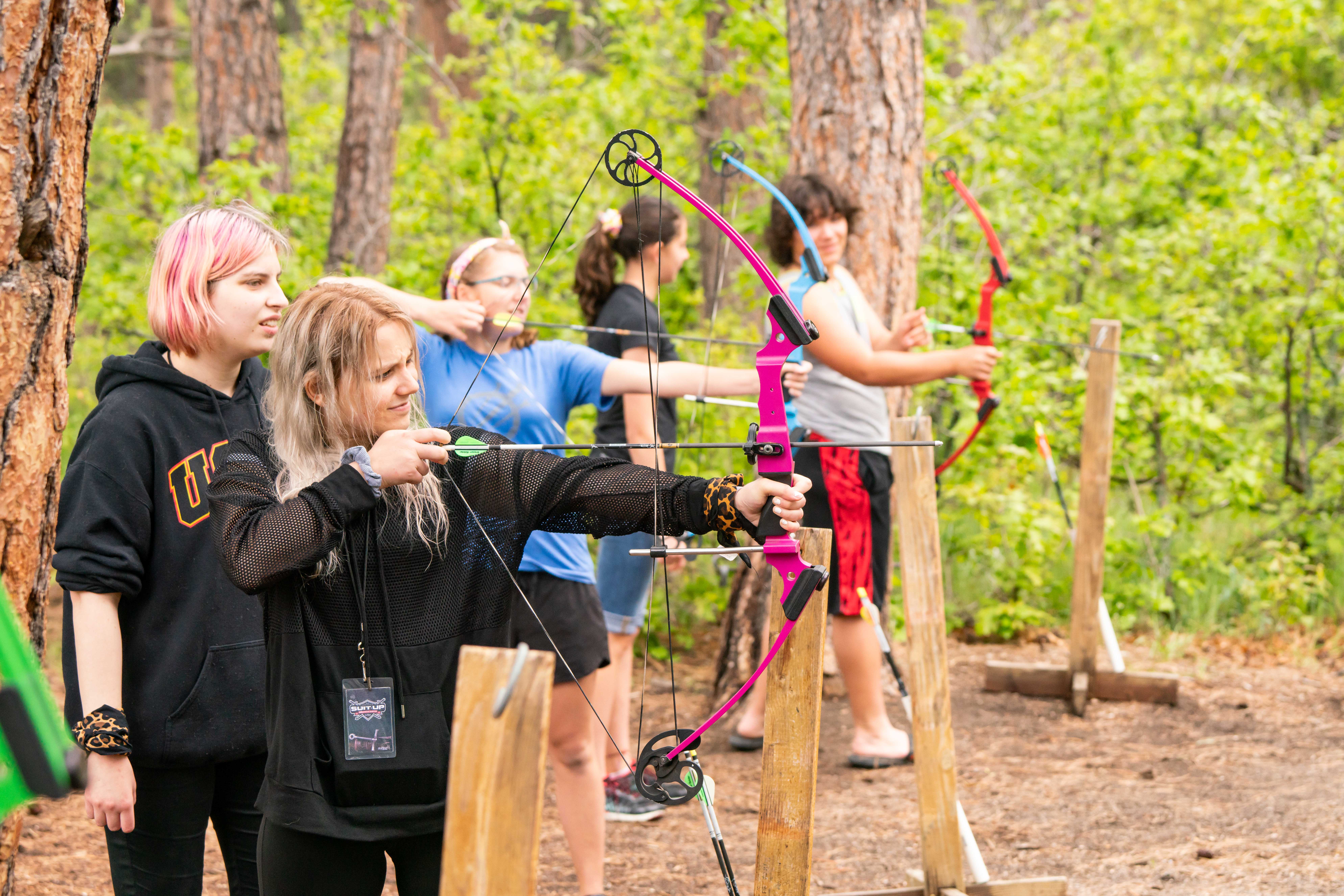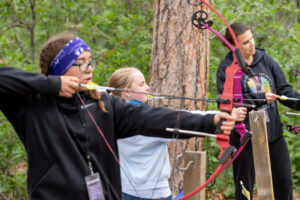 Enjoy this classic camp activity that is fun for all ages. Hone your skills as you go for the bull's eye. At our archery range all equipment and instruction are provided as well as the supervision of a trained range staff. We have chosen to use the Genesis Compound Bows for our range to provide a quality experience that can accommodate all sizes of archers. Four shooting lanes will be open at one time as guests may cycle through them as many times as they want during the scheduled range time. To ensure everyone gets a good amount of shooting a group size of 20 or less is recommended for each hour-long session. Due to insurance restrictions, no outside bows or equipment may be used at Ponderosa.
Price for Archery: $75 per hour
*Release Forms are required and will be collected for each participant before your scheduled appointment. Click to download the Release Form.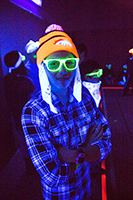 Add a new twist to the classic game of dodgeball by playing it in a Black Light filled gymnasium. All the dodgeballs, cones and even the brightly colored clothes of the players will glow in the black lights. Due to popularity, Black Light Dodgeball can now be played anytime during the day as well as after dark. Additionally we have added a sound system playing high energy music to increase the intensity of this game.
Price for Black Light Dodgeball is $75 per hour.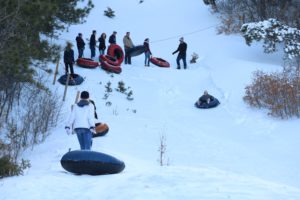 PRICING (Group of 20 minimum):
Daytime Tubing: $10/person
After Dark Tubing: $15/person