Camp Pastor and Worship
Camp Pastor: Eddie Briery
Eddie Briery is a Pastor and Evangelist who truly desires to see lives transformed by hearing the Gospel of Jesus Christ. He has served the local church in a few of different roles: Student Pastor, Church Planter and most recently Senior Pastor. His life experience and travels, along with the conviction of the Holy Spirit, have shaped his perspective on life and have given him the ability to connect with all ages. He is currently traveling the nation and preaching full time. Along with his wife Ashley, daughter Grace (7), son Ziggy (5), and son Max (2), they call Shreveport, Louisiana home.
---
Worship: More Than This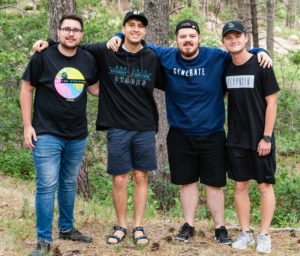 "More Than This" is more than just a band; it's a community of believers striving towards the same goal. Our hope is that the gospel would be spread to the ends of the earth and that the generation we live in now as well as the generations to follow will be impacted by this mission. God is more than our melodies, He is more than any lyric we could ever write and He is an uncontainable and immeasurable God. Therefore we refuse to remain complacent while claiming Him in our lives, and so we continually strive to be more than this.