LISA'S STORY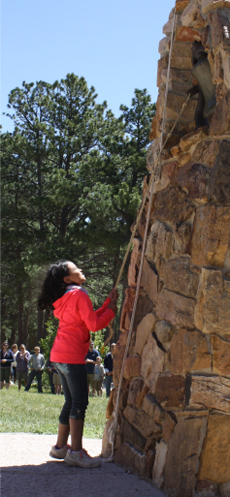 Sixth grade can be a tough time for any kid. Hormones are on the rise as is the anxiety level of going to a new school with new classes, new teachers and a whole new routine and pecking order to become familiar with.
But add the stressors of divorce and a move into a brand new community with a brand new school full of strange new students and almost any kid can be thrown off their game.
"Lisa's" mother, feeling terrible about the divorce and subsequent move, tried to help her daughter adjust and signed her up for Peak Kid's Camp at Ponderosa through her new church.
But Lisa was about to get another blow. Just a week before, the associate pastor, who was scheduled to take the group to camp, resigned. Fortunately, a pair of senior adults stepped up to take the campers, but this was a less than best situation for Lisa. She felt alone and to make matters worse, Lisa found out that she was the only girl going to camp from that church.
Lisa was overwhelmed by feelings of loneliness and abandonment. It seemed her life had been put through the spin cycle, all her normal reference points like family, community, school and church were thrown out of whack. Lisa was lost.
But God had a plan to meet Lisa that week at Peak.
Unaware that she had a small but devoted group of camp staff praying for her, Lisa felt the tug of the Holy Spirit during one of the evening worship services. When the pastor concluded his talk and asked the kids if they wanted to ask Jesus into their hearts, something stirred in Lisa's heart.
Following the service, Lisa stood and looked around for her camp sponsor. When they connected, they went to a quiet spot behind the pavilion to talk.
God was working in the heart of this young lady. As only God can do, He reached down and touched her, healing her feelings of abandonment and loneliness.
Lisa was transformed by the love of God and a caring volunteer camp sponsor. She surrendered her pain and embraced God's love and acceptance. She accepted Jesus Christ as the Lord of her life.
At the close of camp in a special ceremony, Lisa approached that old bell, she took the rope and pulled. As the bell echoed across the surrounding mountainsides, God's glory was proclaimed!